KW Bonaire's Colorful Adventure at Krusada!
Hey there, Bonaire! Guess what? The awesome team at Keller Williams Bonaire just had their first Red Day event on the island, and boy, was it a blast! We couldn't wait to dive into our community and make a difference, so we grabbed our paintbrushes and embarked on a colorful adventure at the Krusada Walk-In-Antriol center.
Getting to Know Krusada:
You know, Bonaire is not just about sunny beaches and crystal-clear waters. Our island is home to incredible organizations like Krusada, where they lend a helping hand to our fellow islanders facing challenges with alcoholism, drug addiction, and reintegration after prison release. Krusada provides essential services like laundry facilities, hygiene support, comfy beds, and even breakfast and lunch. They're making a real impact in people's lives, and we were stoked to be a part of it!
Red Day in Action:
With our paint cans in hand and smiles on our faces, the KW Bonaire team geared up for Red Day at Krusada. We were on a mission to give their Walk-In-Antriol center a vibrant makeover! Who knew painting could be so much fun? We laughed, we danced to some catchy tunes, and most importantly, we bonded as a team while making a difference in our community.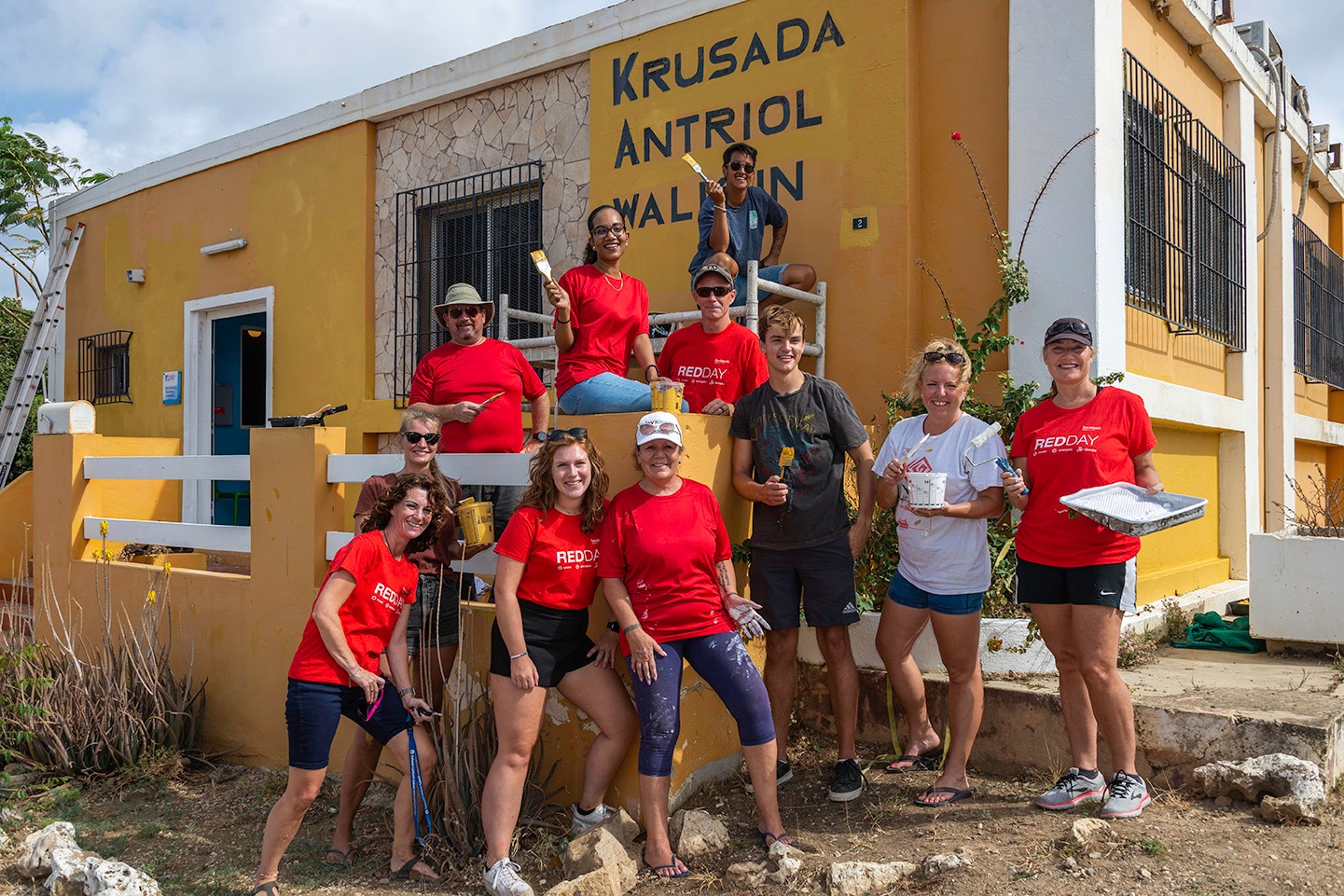 Bringing Color and Positivity:
As the paint splattered and colors filled the air, we transformed the exterior of the Krusada Walk-In-Antriol center into a beacon of positivity. Our goal was to create an inviting and uplifting space for those seeking support and battling addiction. We truly believe that a little splash of color can brighten someone's day and inspire hope.
Joining Forces for a Stronger Community:
At Keller Williams Bonaire, we're not just about real estate; we're about building stronger communities. Red Day is our way of giving back and showing our love for this incredible island we call home. By teaming up with organizations like Krusada, we're making a real impact and helping to shape a brighter future for Bonaire.
The Ripple Effect of Giving:
We've seen firsthand how a small act of kindness can create a ripple effect of positivity. Our Red Day adventure at Krusada not only brought smiles to the faces of the individuals we were supporting but also sparked conversations and inspired others to get involved. Together, we can make a difference and continue to spread the joy throughout our community.
Conclusion:
Our Red Day at Krusada was an unforgettable experience filled with laughter, teamwork, and the satisfaction of knowing we played a part in making a difference. As we wrap up this colorful adventure, we invite you, dear reader, to join us in spreading the spirit of giving where we live. Together, let's paint the town red, one act of kindness at a time!